"Do all the good you can. By all the means you can. In all the ways you can. In all the places you can. At all the times you can. To all the people you can. As long as ever you can." John Wesley
Over the previous nine posts, we've shared the transformation journey of Project Joy and Entokozweni Pre-School, in the Inanda Valley. It has been a journey of growth, collaboration, and hard work. A journey with a specific destination in mind: a place where the children of KwaNqetho, will receive quality early education, during the most important developmental years of their life.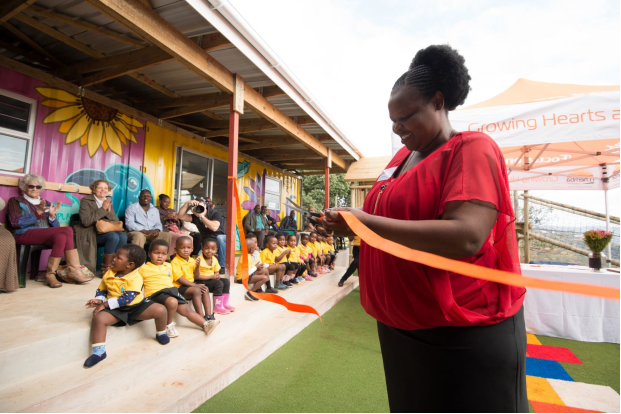 The small creche that operated in an old church hall is now a brightly coloured, beautiful bird, ready to take the children under its wings on their own journey of transformation. 
Principal, Bonisiwe Gwala, who always had the passion, now also has the skills and resources to pilot this journey, and the ambition to make her school a "five-star school". When people hear the name Entokozweni, Bonisiwe wants them to know that it is the place where quality education lives. It's in schools like this, which are run properly, efficiently, with passion and love, that future leaders are developed. And educated, compassionate leaders, are exactly what this community, and country, needs.On August 1st, a community of people brought together by a vision for meaningful change, gathered together under a threatening sky, to celebrate the completion of Project Joy. From community leaders to children, and the many who invested time, expertise, finances, equipment, mentorship and prayers, it was a time to give thanks, and acknowledge the power in collaborative efforts.In the words of Inkosi Bhengu, "We exist together, even though we come from different places. It is our duty to work together and make today better than yesterday."
Creating shared value involves creating economic value in a way which also creates value for society, by addressing its needs and challenges. We recognise that not all profit is equal. Shared value allows us to create the right kind of profit. Shared value helps us create societal benefit rather than eroding it, to enhance the environment rather than polluting it, and help meet the needs of the poor and vulnerable, rather than creating dependency and inequality.
Social Investment Strategies
Container World aims to create shared value through our corporate social investment strategies which include: Funding of specific and strategic relief, restoration, and developmental programmes. The focused provision of innovative, mobile space solutions that deliver a secure environment through which social, human and natural capital development programmes can be implemented.
Relationships and Partnerships
Fundamental to our corporate social investment strategy is the development of relationships and partnerships with key stakeholders to fulfil our contribution to South African society.